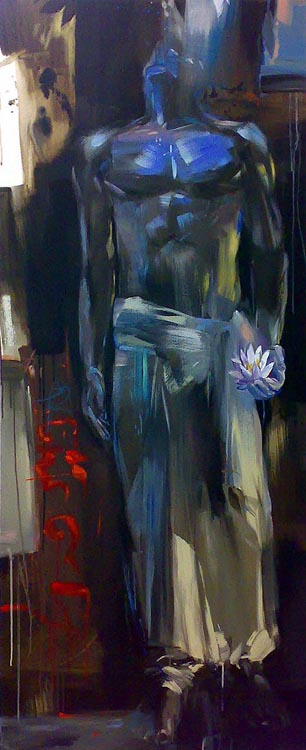 Critic's Speak
Niladri's latest paintings capture the very essence of theatre, both ancient and modern. It also emphasizes how an artist who has been closely involved in performing arts for a long time, translates his experiences into a medium, which is radically different from the very basis of what he wants to portray on canvas, the movement. However, in his paintings, Niladri almost succeeds in arresting those fluid movements. Its not his idea here to create a set of essential narratives that would function as supplements to the theatre arts, but he generates a parallel narrative all his own, conducive to contemporary painterly aesthetics and explores the nuances with the passion of an actor/ director.
Niladri's interest in the subject is not new. Now for the last one decade, he has been endeavoring to translate music, sound and rhythm on canvas, and the journey has been so exciting that he could effortlessly wade through the thick of modernist and post modernist ideas to negotiate the contemporary language in his new series of works in this exhibition aptly titled SUTRADHAAR. The contemporaneity of his language becomes evident as he profusely adopts metaphors, concepts, scripts, images and inscriptions from the vast repository of theatre. The viewer is asked to witness familiar images, and the moment such a viewing is facilitated, the viewer is forced in to an unfamiliar zone.
This is an artistic ploy used by Niladri like many other dexterous contemporary artists choosing familiar images and then defamiliarizing them with the sort of urgency that makes the viewer go beyond the beauty of the surface and to dwell deeper into the philosophical meanings. The artistic adoption of characters and their names from history, literature and theatre almost works as a suggestion to lead the viewer to make further inquiries into their intended contemporary relevance. For instance, when he paints a green room moment in the painting titled KATHA, he incorporates two successive moments within the same frame. In one moment, the actor/ theatrical set up is established through the changes in make up, masks, costumes and choreography etc. Though subtle, it is manifested through the change in the actor's physicality. While this is apparently a familiar zone, the viewer is made to suddenly realize that the moment represented is no longer from Kathakali, but a moment from the life itself ! Kathakali dancer is seen painting his face in greenish blue, the color that connotes a heroic character in this traditional art form of kerala , and in the next moment, the same actor is seen putting a villainous black color to play a different character. This transformation of the self in a de-familiarizing of the familiar for a philosophical purpose could also be attributed to Niladri's skillful incorporation of textual materials within the pictorial frame. In KATHA, there is an inscription that reads Kathak, deliberately asking the viewer to think about the connection therein. In this context, we come to understand that the Brahmi script that Niladri has used in almost all his works do not give clues for reading into the work , instead they help the viewer to read out of the work for locating it (the painting as well as the depicted moment) in the continuum of art, theater and history.
Another interesting aspect highlighted in Niladri's works is the creation of spatial dimensions in a painterly mode without resorting to eye-fooling illusionism . It is not the illusory three dimensional planes that you see in his works. Instead, you tend to feel the spatial re-arrangements facilitated by the acts of the characters created. Through a very conscious twist of spatial meanings, Niladri at once aims at rupturing the textual narratives and evokes a new narrative absolutely based on the frozen moments captured. This contestation of narratives for actual space of visibility is resolved sans any crises in Niladri's paintings.
In his oeuvre so far, Niladri has has engaged himself with unique ideas and also found adequate styles to externalize his artistic thoughts. In his Music series, he resorted to abstract strokes almost akin to aalaaps in a raga , and thereafter in his rhythm/ dance series, he incorporated both figurative and modern abstract styles. In the present set of works, Niladri uses a contemporary flourish, which allows him to drip paint along the canvas, to suggest symbolic values of images through certain bold brush strokes as he juxtaposes words and symbols with well articulated and concrete images.
A sparkling, lively persona and an equally radiant, unconstrained palette have found Niladri Paul die-hard patrons in all five continents of the world, spanning across nationalities. Such is the ubiquity of his language that it communicates with one and all.
In a career span of fifteen colorful years, he has managed to create and establish an individualistic signature style, free-flow and yet definitive, inimitable in its content, form and treatment. His paintings are a remarkably forceful positive amalgamation of resplendent colors in their natural mode, instinctive, unbridled lines, and an alluring use of white as a color with stunningly bold brush-strokes. The consummate execution of big, flat strokes on the faces of his figures on an almost finished artwork can cause a heart beat to be missed even in the strongest of a person. The impact obviously takes his art to a level beyond comparison.
Last, but not the least is that Niladri uses light to its natural advantage for his work. He completes all his paintings using a unique three stage application, whereby all his works are given final touches in three separate sittings with special focus on light as available in the morning, afternoon and night, thus ensuring that the artwork is well appreciated at all times and is not held hostage to available light while viewing.